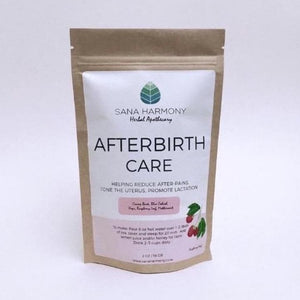 Afterbirth Care Tea
Regular price
$18.00
$0.00
Herbal tea blend formulated for postpartum support, helping relax and tone the uterus and pelvic floor muscles. It helps reduce after-delivery-pains, relieves contractions, cramps and restores uterus to the pre-pregnancy state. Additionally, it helps relieve anxiety and nervousness, and supports production and increase of the milk flow. Best combined with Womb Balance Tea.*
Cramp Bark - relaxes and tones the uterus. It relieves menstrual cramps, eases muscle spasms, and is beneficial for all problems related to muscle tension.  
Hops - very helpful herb in relieving muscle tension and anxiety, balancing hormonal production and also aids digestive function. It is one of the best herbs for inducing sleep and is useful in stimulating milk production. 
Motherwort - means an herb (wort) for the mother. It has calming effect and is helpful for soothing anxiety and nervousness during motherhood and is considered a good heart remedy helping lower blood pressure. 
Organic ingredients: 
Cramp Bark (Viburnum opulus), Blue Cohosh (Caulophyllum thalictroides), Hops (Humulus lupulus), Raspberry Leaf (Rubus ideaus), Motherwort (Leonurus cardiaca)
How to prepare: 
Steep 1 tbsp loose tea in 8 oz hot water for 20 min. To prepare herbal infusion, a strong medicinal tea, steep 1/2 oz of loose tea in a quart of hot water for 3-4 hrs, room temperature. Drink warm. 
2 oz / 56 g 
*These statements have not been evaluated by the FDA. This product does not intend to treat, diagnose, cure, or prevent any disease. If you're pregnant, breastfeeding, or on any medications, please consult with a qualified health professional before beginning any new herbal products.
---
Share this Product
---
More from this collection