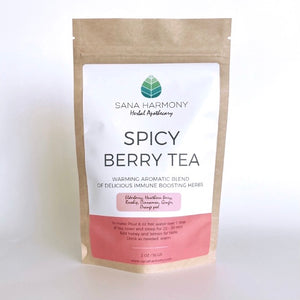 Red Berry Tea
Regular price
$20.00
$0.00
Aromatic, naturally sweet and spicy blend of immune boosting and warming herbs. Spicy Berry tea blend is loaded with antioxidants found in elderberries, hawthorn berries, with additional punch of vitamin C from rosehips and orange peel. Cinnamon and ginger are warming and add sweetness and flavor. It smells like a berry pie and you can enjoy it warm in cold days and as an iced drink in the summer*. 
Elderberry has an immune-enhancing properties and works best when paired with echinacea. The berries have powerful antiviral properties making them very helpful in treating viral infections and upper respiratory infections.  
Hawthorn - is a heart supporting herb, regulates blood flow, relieves anxiety and stress, promotes sleep and libido. It is helpful for feelings of emotional heartache, grief, sadness. 
Cinnamon - is a spicy and warming aromatic herb that is commonly used as digestive and circulatory stimulant. It is also helpful for reducing blood glucose levels, and it is a strong antimicrobial.  
 2.6 oz / 74 g 
Organic ingredients: 
Elederberry (Sambucus nigra), Hawthorn Berry (Crataegus monogyna), Rosehip (Rosa Canina), Cinnamon (Cinnamomum verum), Ginger (Zingiber officinale), Orange Peel (Citrus sinensis)
How to prepare:

Pour 8 oz hot water over 1 tbsp of tea blend, cover and steep for 20-30 minutes. You can reuse it to make another cup of tea, it may be slightly less potent.
Alternatively, you can put 1/2 a cup of tea blend and 4 cups of water in a pot, cover, and bring to a boil. Reduce heat and allow to decoct (low simmer) for 30 minutes with a lid on the pot. Strain, add some honey, if you wish. Drink warm or as an iced tea.
**These statements have not been evaluated by the FDA. This product does not intend to treat, diagnose, cure, or prevent any disease. If you're pregnant, breastfeeding, or on any medications, please consult with a qualified health professional before beginning any new herbal products.
---
Share this Product
---
More from this collection