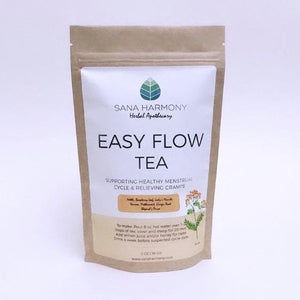 Easy Flow Tea
Regular price
$18.00
$0.00
Easy Flow herbal blend is specially formulated tea to help with painful menstruation, irregular cycles and heavy prolonged bleeding. Ginger is warming and helps with circulation while high in iron nettle and raspberry leaf help with feelings of fatigue and low energy. Best taken a week before suspected cycle date to lessen the flow and to stimulated delayed or absent menstrual cycles.* 
Lady's Mantle - has been used throughout history to treat menstrual irregularities and difficulties. It's astringent quality helps reduce heavy periods and stimulates menstrual flow. It also helps relieve period pains and to regulate periods. 
Yarrow - helps ease menstrual cramps, uterine tension, and relieves pelvic congestion. It will decrease heavy menstrual bleeding and help stimulate delayed cycles. 
Shepard's Purse - helps constrict blood vessels and is an excellent herb to use during heavy menstrual bleeding, especially in combination with yarrow. It's also helpful in reducing postpartum bleeding. 
Organic ingredients:
Nettle (Urtica dioica), Raspberry Leaf (Rubus idaeus), Lady's Mantle (Alchemilla vulgaris), Yarrow (Achillea millefolium), Shepard's Purse (Capsella bursa pastoris), Ginger Root (Zingiber officinale). 
2 oz  bag
How to prepare:
Steep 1 tbsp loose tea in 8 oz hot water for 20 min. To prepare herbal infusion, a strong medicinal tea, steep 1/2 oz of loose tea in a quart of hot water for 3-4 hrs, leave covered at room temperature. 
*These statements have not been evaluated by the FDA. This product does not intend to treat, diagnose, cure, or prevent any disease. If you're pregnant, breastfeeding, or on any medications, please consult with a qualified health professional before beginning any new herbal products.
---
Share this Product
---
More from this collection