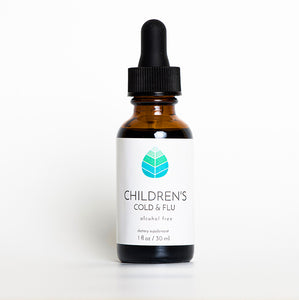 Children's Cold & Flu Relief
Regular price
$18.00
$0.00
Children's cold and flu remedy is delicious, gentle and effective herbal blend formulated to support respiratory health, colds, fevers, sore throats. This blend also helps with cough and digestive troubles. Alcohol free, infused in glycerin, helps the remedy 'go down' easier, plus it's safe for people living with diabetes.*

Yarrow is well-known herb for strengthening the immune system and excellent for building resistance to colds, flues and infections. 

Elderberry & elderflower have an immune-enhancing properties. The berries have powerful antiviral properties making them very helpful in treating viral infections and upper respiratory infections, and elderflower promote perspiration and help reduce inflammation, shortening the duration of cold and flu symptoms.  
Chamomile well known for its ability to ease tension and stress, but it is also excellent for stomach tension, indigestion and because of it's anti-inflammatory properties, it's great in combination with other herbs such as yarrow, peppermint, elderflower. 
Organic Ingredients:
Yarrow (Achillea millefolium), Elderberry (Sambucus nigra), Elderflower, Peppermint (Mentha piperita), Chamomile (Matricaria chamomilla), Lemon Balm (Melissa officinalis), vegetable glycerin (palm), distilled water.
How to use: 
Take 1-3 droppers full every few hours or when needed, directly under the tongue or in a little water or tea.
1 oz/30 ml glass bottle with a dropper 
*These statements have not been evaluated by the FDA. This product does not intend to treat, diagnose, cure, or prevent any disease. If you're pregnant, breastfeeding, or on any medications, please consult with a qualified health professional before beginning any new herbal products.
---
Share this Product
---
More from this collection