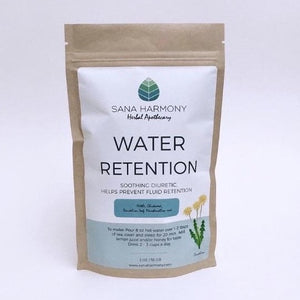 Water Retention Tea
Regular price
$18.00
$0.00
Water Retention Tea is a mild and gentle herbal diuretic that helps relieve that uncomfortable swelling and extra fluid retention. It's high in potassium and other minerals so it doesn't cause mineral deficiency and it helps support kidney function. If taken postpartum it helps promote lactation. Safe for pregnancy and nursing mothers.*
Dandelion leaf - is a mild diuretic and helps eliminate excess water held in body during hormonal changes. It is high in potassium so it doesn't deplete body of this mineral as do synthetic diuretics. 
Marshmallow root -   is a cooling, soothing and moistening herb. It is also a diuretic, soothes inflamed tissues, reduces swelling and it enriches breast milk in nursing mothers. 
Chickweed - is a soothing diuretic, helps relieve fluid retention and aids the elimination of toxins via kidneys which helps skin problems such as eczema, rashes ...
Organic ingredients: 
Nettle (Urtica dioica), Dandelion leaf (Taraxacum officinale), Marshmallow root (Althaea officinalis), Chickweed (Stellaria media)
How to prepare:
Steep 1 tbsp loose tea in 8 oz hot water for 20 min. To prepare herbal infusion, a strong medicinal tea, steep 1/2 oz of loose tea in a quart of hot water for 3-4 hrs, leave covered at room temperature. Drink warm or room temperature. 
2 oz / 56 g
*These statements have not been evaluated by the FDA. This product does not intend to treat, diagnose, cure, or prevent any disease. If you're pregnant, breastfeeding, or on any medications, please consult with a qualified health professional before beginning any new herbal products.
---
Share this Product
---
More from this collection