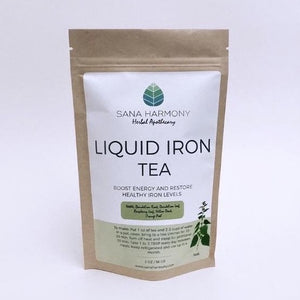 Liquid Iron
Regular price
$18.00
$0.00
Liquid Iron is a nourishing herbal formula for women of all ages. Easily digestible blend of mineral-rich herbs that aid assimilation of iron from diet. This formula will also aid digestion and stimulate appetite, so it can be helpful for women who experience nausea and morning sickness. For additional iron boost and improved taste you may add blackstrap molasses, concentrated fruit extracts or dried unsulphured apricots. Safe for pregnancy, nursing mothers and children.*
Dandelion - often considered as garden weed, the whole plant is actually medicinal. Roots are mostly used to activate whole digestive tract, it's bitter compound stimulate digestion and help us detoxify through liver and kidneys. Leafs are excellent for water retention problems and being high in potassium it helps us replenish it. 
Nettle - rich in calcium, iron, magnesium and other minerals, is considered highly nourishing herbal food that can help build healthy blood, bones and because of its high iron content helps with chronic fatigue and low energy. 
Yellow Dock - a bitter herb that is not rich in iron itself, but it helps the body assimilate iron from diet. Very useful for anemia, helps women to raise the blood iron levels and prevent iron deficiency. 
Organic ingredients: 
Nettle (Urtica dioica), Dandelion Root & Leaf (Taraxacum officinale), Raspberry Leaf (Rubus idaeus), Yellow Dock (Rumex crispus), Orange Peel (Citrus sinensis) 
2 oz / 56 g
How to prepare:
Put 1 oz of tea mixture and 2-3 cups of water in a pot, cover, and bring to a low simmer for 10 - 20 min. Turn off heat and steep for additional 20 min. Strain and optionally add 1-2 tbsp of blackstrap molasses. Take 1 to 3 TBSP every day between meals. Keep refrigerated and use up in a month. 
*These statements have not been evaluated by the FDA. This product does not intend to treat, diagnose, cure, or prevent any disease. If you're pregnant, breastfeeding, or on any medications, please consult with a qualified health professional before beginning any new herbal products.
---
Share this Product
---
More from this collection